By clothing-bag, 25/07/2022
Retro Style Outfit Guide for Men: How to Look Cool in Classic Menswear
Looking sharp doesn't have to mean wearing the latest fashion trends. Sometimes it's better to go with a classic look that will never go out of style. This article will teach you how to dress like a man from the 1950s and 1960s. We'll cover everything from suits and ties to shoes and accessories. So whether you're going to a formal event or just want to spruce up your everyday style, keep reading for some cool retro fashion tips!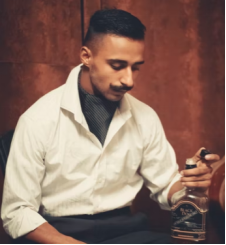 The Fedora Hat
One of the most iconic elements of retro style is the fedora hat. This classic accessory can instantly add a touch of class to any outfit. If you're not sure how to wear a fedora, then start by pairing it with a suit or sports coat. For a more casual look, try teaming it with a denim jacket and a pair of chinos. No matter how you wear it, just make sure that your outfit looks polished and put together.
A Good Pair of Loafers
Retro-inspired wardrobe is not complete without a good pair of loafers. Loafers are the perfect shoes to slip on when you're in a hurry and need to look put together with minimal effort. They also happen to be very comfortable, which is always a bonus. Just make sure that your loafers are in good condition and look comfortable. Nothing ruins a retro outfit quite like a pair of scuffed-up shoes.
A Vintage Watch
A watch is the perfect finishing touch to any outfit. But not just any watch will do. You need a vintage watch that tells the world you're a connoisseur of style. Fortunately, it's easy to find a vintage watch that suits your taste and budget. Just head to your local antique store or flea market. You can also find some great watches online. Just make sure that you do your research before buying anything.
A Scarf
Are you looking for a way to add a touch of retro style to your outfit? If so, then consider accessorizing with a scarf. This simple piece of fabric can be draped around your neck, worn as a headband, or tied around your waist. No matter how you wear it, just make sure that your scarf looks chic. Of course, the best way to ensure that your scarf looks its best is to choose a quality piece of fabric. Silk scarves are always a good choice, but you can also find scarves made from other materials, such as cotton or wool.
A Pair of Fur Gloves
Gloves are an essential part of any winter wardrobe, but they can also be a fashion statement. For instance, fingerless gloves are all the rage these days, but they're not very practical. If you want to keep your hands warm, you need a pair of gloves that covers your entire hand. That's why fur-lined gloves are the way to go. They may not be as trendy as fingerless gloves, but they'll keep you warm. And if you want to add a touch of retro style to your outfit, fur-lined gloves are the way to go.
A Custom Bomber Jacket
When it comes to retro style, the custom bomber jacket is king. This iconic piece of outerwear has been sported by everyone from James Dean to The Fonz, and it's easy to see why. Bomber jackets are the perfect way to add a touch of cool to any outfit, and they always look effortlessly stylish. If you're looking to rock a bomber jacket like a true retro king, then make sure that it's custom-made. That way, you can be sure that it fits you perfectly and looks truly unique.
So there you have it! These are just a few tips to help you get started with creating a retro-inspired wardrobe. Just remember to have fun with it and experiment with different looks until you find something that works for you. With a little effort, you'll be looking like a dapper gentleman in no time! Thanks for reading!