By clothing-bag, 25/07/2022
Necklaces: A Great Way to Express Your True Self
Do you ever feel like you need to express yourself but don't know how? Well, necklaces are a great way to do just that! They can be very versatile and allow you to show your true self. In this article, we will discuss the different types of necklaces that are available and how they can help you express yourself. So, if you're ready to unleash your inner fashionista, keep reading!
The Choker
Chokers are a versatile type of necklace that can be worn with a variety of different outfits. They can add a touch of sophistication to a casual outfit, or they can make a bold statement when teamed with a formal gown. When choosing a choker, it is important to consider the overall look that you are trying to achieve. If you want something subtle, then a white or silver choker would be a good choice. However, if you are looking to make a more dramatic impact, then a black choker would be the ideal option.
The Matinee
One of the most versatile types of necklaces is the matinee. As the name suggests, matinee necklaces are a bit longer than your average necklace, falling somewhere between your chest and your waist. This makes them perfect for layering with other necklaces or for wearing on their own. Whether you're looking for a delicate chain with a small pendant or a statement-making piece with a large pendant, a matinee necklace is a great option. And because they come in a variety of styles and materials, matinee necklaces can be dressed up or down to suit any occasion.
The Lavaliere
Lavalieres are a type of necklace that has a pendant that hangs down in the front. They are usually worn with formal attire. If you are attending a wedding or another formal event, consider wearing a lavaliere. Lavalieres are available in a variety of styles and can be made from different materials. The most popular material for lavalieres is diamonds, but they can also be made from other precious stones such as emeralds, sapphires, and rubies. Lavalieres can also be made from more affordable materials such as Swarovski crystals or Pearls.
The Rope
Rope necklaces are a great choice for everyday wear. They are usually made from materials like cotton or hemp, which makes them very comfortable to wear. Rope necklaces are also very versatile. They can be worn long or short, depending on your outfit. You can also find them in a variety of colors. Rope necklaces are a great way to add a bit of personality to your look. If you want something that you can wear with everything, try a rope necklace.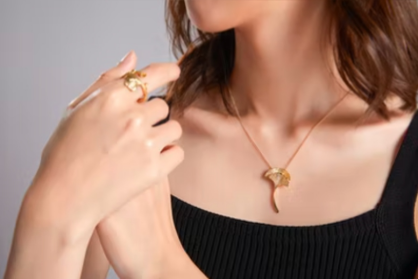 The Plastron
A plastron necklace is a type of necklace that sits lower on your neck, similar to a choker. Plastron necklaces are a great option for those who want to make a statement without going too overboard. If you want something that is both stylish and sophisticated, try a plastron necklace. Plastron necklaces come in a variety of styles, from simple and classic to bold and modern. Whether you are looking for something to wear to work or to hang out in the town, you are sure to find a plastron necklace that suits your style.
The Pendant Necklace
There are many different ways to express yourself through fashion. One great option is the pendant necklace. Pendant necklaces come in all shapes and sizes, if you're looking for something simple, try a small pendant necklace. If you want something with a little more personality, go for a large pendant necklace. Custom pendants are a great way to show your unique style. You can have custom iced out pendants made to represent anything that you want. Whether you want your initials, your favorite animal, or something else, there's sure to be a custom pendant that suits your needs.
There are so many different types of necklaces available, surely there is one out there that is perfect for you. Necklaces are a great way to show your true self. So, don't be afraid to experiment and try out different styles. You might just find your new favorite accessory! Thanks for reading! We hope this article was helpful.